Quick, What's For Dinner?
Some Super Quick Kids' Meals
If you have kids, you need some Quick Kids Meals in your repertoire, because sometimes they want it now! So this is my an introduction to my series of recipes dedicated to Moms who work at a paying endeavor in addition to doing Mom duty pretty much 24/7.
I am past that, thank God! Not that I didn't love it when my children were around, I did. But when you are still in that stage, you need Quick Kids' Meals
!
When I was in the thick of it, I kept a notebook of recipes that were simple, quick, and easy on the budget. I know that there are a lot of gourmet cooks and "foodies" on the web. These recipes are not for them. Instead this is for Moms with no time, career people with no time, or anyone with no time or desire to spend any significant time in the kitchen. If that describes you, these might just be your new favorite recipes. Enjoy!



Image: An Egg Salad Sandwich using healthy bread and leaf lettuce
Quick Cooking Tip
Make the Meal More Fun!
Use nice dishes. Even simple
food looks more elegant
served on nice dishes. It
only takes a minute and
adds pizazz.
Quick Kids' Meals
When your children are small, they really don't care about fancy cooking, and they usually don't care for spicy food either. So why knock yourself out? Keep it simple.
And think about it. When you are out and decide to stop for a bite to eat, what do they want? Hamburgers, hot dogs, and fast food. So why not give them the same things at home where you can feed them foods made with fresh ingredients. Add a salad, a bit of fruit, and they are getting some balance. It's quick, and they are happy.
And really, when adults are in a hurry to eat, they grab fast food too. But you can cook the same thing at home for a lot less money, and it will be fresher too.
Also, don't overlook breakfast foods for dinner. Eggs and Bacon taste just as good at night as they do in the morning. Ditto Pancakes and Waffles.
Quick Cooking Tip
If you are in a super hurry,
any sauce you put on Noodles
can also be put on Bread, or
Toast. Faster and easier.
No water, no pan.
Less clean up.
11 Really Quick Kids' Meals

For Emergencies (They Want Food Now)
Mini-burgers*
Noodle Casserole*
Eggs and Bacon
Grilled Cheese Sandwiches
Spaghetti
Hot Dogs
Pancakes or Waffles
Little Pizzas*
Tuna Sandwiches
Egg Salad Sandwiches
Chicken Surprise*
* Recipes Listed Below or Linked
Repeal Murphy's Law Apron

You Can Cook, You Can!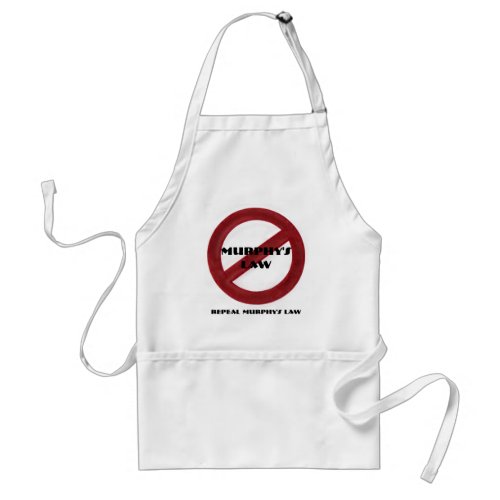 Repeal Murphy's Law Apron
by
NotNormal
Browse other
Repeal Aprons
Recipe for Little Pizzas
English Muffins, or Bagels, or Bread
Spaghetti Sauce or Pizza Sauce
The easy way to make little pizzas is to use English Muffins, Bagels, or even toast if that's all you have. Toast the halves of the English Muffins, Bagels or slices of Bread lightly and top with Spaghetti Sauce from a jar, or Pizza sauce from a jar, and grate Cheese on top. Bake in a 350 degree oven or a toaster oven just long enough for the Cheese to melt. Simple, quick, and good. Most kids love these. Even adults love them. Great for football parties too. Or if you have unexpected guests. Keep Spaghetti sauce around as it is a staple! Over Noodles you have Spaghetti, another quick kids meal!
Buy Pizza Sauce and Spaghetti Sauce Online
&
Keep it Healthy
Raw food has more vitamins and
minerals. Always have a side salad.
It adds to your vegetable quotient
and makes the meal seem more
substantial and elegant. And it's
easy. Just buy a packaged salad,
add dressing, and toss.
Dresses up any meal.
Microwave Ovens are Not Healthy For You!
Use a Convection Oven Instead
Twice as fast as a regular oven, and better for you...Even though you're in a hurry, you want to keep you and your loved ones healthy, right? With a Convection Oven, you get fast and healthy in one package. Don't believe me about the microwave oven? Google "microwave safety concerns."
&
My Best Quick Cooking Tip
For Busy People
Make a list of 15 easy meals.
Cook a new meal every day for
15 days, and then start over.
No one will remember the last
time you made it.
Want More Simple Recipes?

Some Quick Easy Cookbooks
&
More Quick Easy Meals

If You Have No Idea What to Make
These days it's easy to find quick easy meals online and here's a great thing I discovered. You can put in your ingredients and ask Google to give you a recipe with those ingredients. For example, let's say I have cake mix and apples and I want a dessert using those 2 things. Go over to google and type this: "apples and cake mix recipe." You will get several to choose from. Or try potatoes and milk. Or potatoes and soup. Or hamburger and soup. Try it, you will be amazed how easy it is.
I even taught my husband how to do this so he could still cook if we forget to go to the store and have little to choose from in the pantry. Yes, I even have it easier than before when I used to cook quick easy meals, as my husband gets hungry before I do so now he cooks. How cool is that? I told him "I don't make dinner, I make money..." and he was okay with it. Yes, I am so lucky!
Quick Easy Recipes for Kids (and adults)
&
Note: The author may receive a commission from purchases made using links found in this article.