No Cook-ies! No Cook, No Bake Cookies
No Cook-ie, as in No Cook-ing, is my kind of recipe! It all started because my first child loved to lick the bowl back when I actually baked Cookies. Being a child, he whined for more Cookie Dough. So I started saving more and more of the Cookie Dough for him to lick from the bowl while the Cookies baked.
And then one day it hit me. Why cook any of the dough? He liked it raw. I liked no cook-ing, And then I reasoned that since I wasn't baking the dough anyway, why add Baking Soda or Baking Powder? And since I did worry a little about the raw Eggs, why bother with them either? Voila, Cookie Dough was really getting to be easy!
From then on Cookies became "No Cook-ies" and the next two kids grew up on "No Cook-ies." The last one was 5 years old before he knew that other moms baked their Cookies. I told the kids that Cookies in the store were baked so they would last longer but real homemade ones are raw. I swear little kids will believe anything!
Now they sell Cookie Dough Ice Cream...so you can see I was way ahead of my time! Enjoy my simple No Bake Cookie Recipe or No Cook-ies, for a quick and easy and delicious "Cookie break " anytime!
"C" is for "Cookie."
~Cookie Monster
No Cook, No Bake, Just Cookies!
Serves: 2-3
Prep Time" 8 Minutes
Ingredients
1/2 Cup of Real Butter
1 Cup of Flour
1 Cup of Sugar
2 tsp. Vanilla
Chocolate Chips (optional)
Directions
The Butter must be really soft. Whip the Butter and Sugar well. Add in Flour and Vanilla a little at a time until it is all mixed well. If the dough is too stiff, add a tiny bit of water at a time till the right consistency. Add Chocolate Chips if you want. Serve and enjoy!
Or use for your own homemade Cookie Dough Ice Cream. Just add to Vanilla Ice Cream in your favorite proportions. Way more budget conscious than the Designer brands!
Real Men Bake Cookies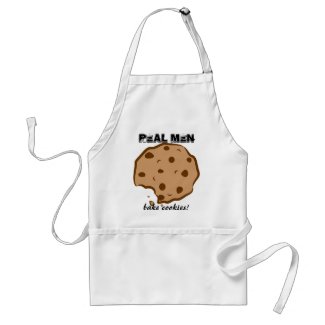 Real men bake cookies! aprons
by
Apron4U
Design your own
personalized aprons
from zazzle.com.
Cookies are made of Butter
and Love.
~Norwegian Proverb
Ingredients for Your No-Cook-ies
The better the quality the Vanilla is, the better the flavor of the baked goods.
Heaven Scent Double-fold Pure Madagascar Vanilla Extract (8.5 Oz.) A Whole Vanilla Bean Inside
&
Organic Flour is way more healthy for you! Since the dough is going to be raw, it is much better to use organic ingredients.
Bob's Red Mill Organic Unbleached White Flour, 48 oz
&
Organic Sugar also tastes better than non organic Sugar!
&
A balanced diet is a Cookie
in each hand.
~Anonymous
Even Easier, Buy Cookie Dough!
&
Peace, Love, Cookies
Does Your Cookie Dough
Lose Its Flavor
On the Bedpost Overnight?
(You should have eaten it)
&
Note: The author may receive a commission from purchases made using links found in this article.