Wooden Toy Chests for Children
Toys and children getting together often results in a big messy room. But it doesn't have to be that way. Get a beautiful wood toy chest for your children and they will be able to have a clean room quickly! Just pick up the toys and toss them in. Instant clean room.
It's really a necessary part of parenting to help your kids learn how to organize things. Their life will be much easier for it. Yours too! A wooden toy box serves that purpose very well.
Even very little kids can get the idea of "toys go here in this box." You can upgrade to "this toy goes on this shelf and this one goes on that shelf" later if you want, but the toy box is an easy first step to learn organizing.
So here are the most popular and best selling wooden toy chests to fit all your children's room decor. Keep their room clean and help them develop the habit of organizing their toys early. It will help them so much to be organized later in life!
If you would just like to see the list of the most popular wooden toy chests on Amazon right now, click here.
Very Popular Wooden Toy Chest
Bench style wood toy chest that your kids will love to put their toys in and then sit on while reading or doing crafts or they can use the top as a table.
KidKraft Limited Edition Toy Box - Espresso
&
Pirate Style Wood Toy Chest
If you prefer a lighter wood, this wooden toy chest will do the trick. Barrel style like the Pirates enjoyed and sure to please your girl or boy either one. Hiding the mess will be easy with this beautiful wood toy chest. Also available in White and other colors. Just click to see what's available.
Little Colorado Captain's Chest- Honey Oak
&
Unfinished Wood Toy Chest

A Popular Wooden Toy Chest
You can finish this one any way you want, any wood finish or a painted one. Whatever matches the rest of your furniture!
Little Colorado Toy Storage Chest Unfinished
&
More Wonderful Wood Toy Chests
A wood toy box to hold all their treasures for years to come. Large enough to hold a whole room full of dolls and stuffed toys and all the stuff that accumulates. Maybe that will get them to put those toys away. Worth a try, don't you think?
Choo Choo Train Poster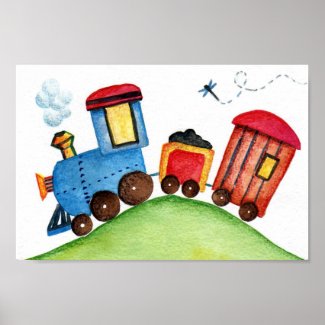 Choo-choo Train print
by
mbarbierismith
Design a poster
at zazzle.com
Wood Basket Storage Unit
A new take on wooden toy chests, the wood and basket storage unit. In one way this is easier. The baskets slide out so no lid to raise up. Also it looks beautiful in the living room or family room too. So for me, I'm thinking this is the one, because it's for my spouse, shhh…
Coffee Table with 3-Foldable Basket
&
A Different Kind of Wood Toy Chest
Tot Tutors Kids' Store-All Unit, Natural Finish
&
Toy Chest Instruction Videos

Maybe You Would Rather

Build Your Own Wood Toy Box
You can actually buy plans to build your own wood toy box, but YouTube has awesome videos that show you how to calculate the sizes of the panels you need to build your own, so that makes the plans free really. Just watch a video, buy some wood, and get to work. Easy project!
Still searching? A list of the most popular wood toy chests is here.
&
Note: The author may receive a commission from purchases made using links found in this article.